If you're here, we're confident you've heard of GA4 and how it can help your business, but have yet to make the jump, whether it be a lack of time or expertise. Though it seems like an uphill battle to stay on top of the latest tech, website, and analytics trends, GA4 implementation doesn't have to be as challenging as it sounds. 
What Exactly is GA4?
GA4 (Google Analytics 4) is the latest version of Google's web analytics platform. It is designed to give businesses a more comprehensive view of their website and app performance. Including data analytics, customer behavior, and advertising campaigns.
Here are some key features and benefits of GA4:
Cross-Device Tracking:

Using artificial intelligence to track user behavior across multiple devices and platforms, giving businesses a complete view of their customer journey.

Enhanced Data Privacy:

Privacy-focused and compliant with data privacy regulations such as GDPR and CCPA.

Event-Based Tracking:

Tracking user behavior based on events rather than pageviews, allowing businesses to measure custom interactions such as video views, downloads, and button clicks.

Customizable Reports:

Making it easier for businesses to analyze and understand their data.

Integration with Google Ads:

Allowing businesses to measure the performance of their advertising campaigns alongside their website and app data.

Predictive Insights:

Finally, GA4 uses machine learning technology to provide predictive insights, such as potential churn rates and customer lifetime value.
In short, Google Analytics 4 has everything you need to stay on top of your website's performance while tracking your customer journey, but why is it so essential to upgrade from your current version of GA?
Universal Analytics is a well-established platform that many website owners are familiar with, and it works. So, why throw away a good thing? Some businesses may not see the need to switch to GA4 if they are already satisfied with the data and insights they get from UA. However, it's important to note that Google has announced that they will eventually phase out support for Universal Analytics, making it increasingly crucial for website owners to start implementing the new GA4 platform.
There are several reasons why switching to GA4 can bring massive improvements to your company. Analytics are crucial to making data-based business decisions quickly, and on top of that information, GA4 provides better tracking capabilities, improved reporting, and seamless migration. 
What are the Benefits for the Hospitality Industry?
GA4 services are vital to any industry, but in terms of hospitality and hotels, they can offer the information you need to book more clients faster. You'll know exactly where your website fails to convert and make changes accordingly, an essential piece of the digital marketing for hotels puzzle.
Google Analytics has always offered its users a wealth of valuable information, but this new upgrade takes things to another level. If you're not currently using it, we recommend implementing it as soon as possible.
Here's a breakdown of what GA4 helps you do for your business and marketing efforts: 
Understand Your Audience:

Using Google Analytics, you can gain a deeper understanding of your website or app users, including their demographics, interests, behavior, and location.

Track Website & App Performance:

GA allows you to track important metrics such as website traffic, bounce rates, conversion rates, and more.

Optimize Marketing Campaigns:

Track the performance of your marketing campaigns, including pay-per-click (PPC) ads, social media campaigns, and email marketing.

Improve User Experience:

By analyzing user behavior on your website or app, you can identify areas where users may get stuck or frustrated.

Make Data-Driven Decisions:

With Google Analytics, you can access a wealth of data to inform your business decisions. By analyzing this data and making data-driven decisions, you can make more intelligent, educated choices to help your business grow and succeed.
The Challenges of Switching to GA4
Here are a few potential challenges, primarily if you fail to work with a professional. These challenges may be significant for some, but businesses can mitigate them by carefully planning their migration, allocating sufficient resources, and working with experts experienced in GA4 implementation and customization. You don't have to do this alone!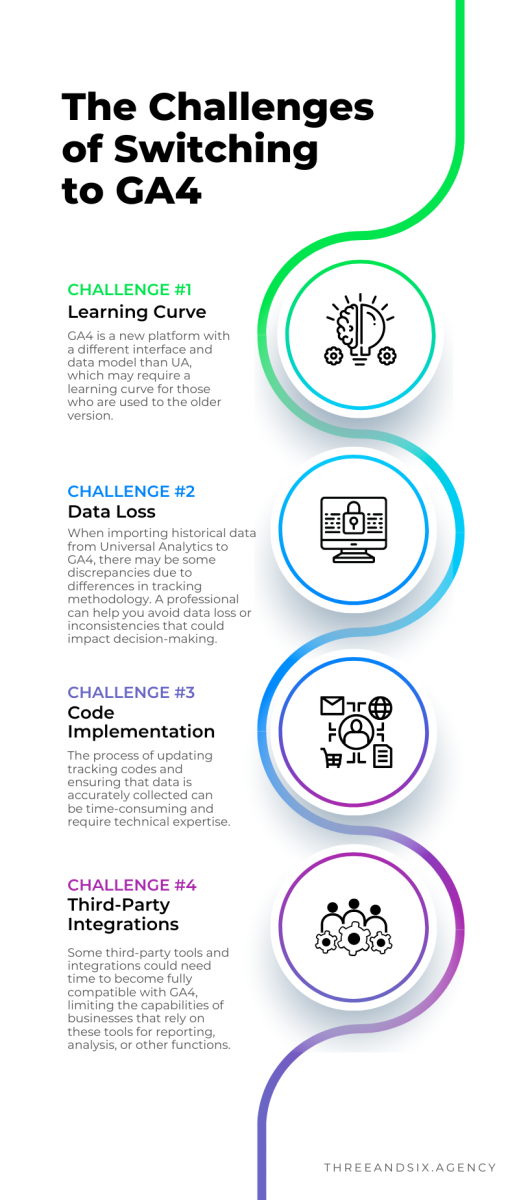 We Can Help!
We offer plenty of services related to website analytics, including GA4 migration and implementation. Here's how we can help with your Google Analytics 4 integration. At three&six, we will guide you through the entire GA4 process, carefully evaluating your needs, and budget while providing the support to make the change.
Contact us today, and we'll discuss your digital marketing expectations and GA4 implementation in depth. We look forward to hearing from you!
27 Mar 2023

By Alicia Hamilton

Share: